Merry Christmas 2005!!
Then the angel said to them, "Do not be afraid, for behold, I bring you good tidings of great joy which will be to all people."
| | |
| --- | --- |
| | This past year has been filled with travel, hurricanes, two tired parents and joy. The Lord has blessed us abundantly! In February we spent a relaxing week at Disney World. That is right, I said relaxing. Although we certainly don't travel light any more. Here is our luggage train on the way up to our room at the Pop Century resort. |
| | |
| --- | --- |
| We joined Don's nephew's family and Don's sister and brother-in-law - Charlotte and Ron. We spent one day at a park and the next day we took it easy doing simple things that we never seem to do at Disney. Sarah likes to ride the monorail and the tram. We visited several resort hotels to see how they were all decorated. The girls loved that. They also got to meet the live Winnie the Pooh, but he turned out to be much bigger than they expected, and were a little frightened. While in Orlando, we enjoyed a visit with Don's Aunt Doris and her family. | |
Our girls have quite a collection of stuffed animals. Here is their biggest, a horse named "Silver". This was a present that Rachel got for her 2nd birthday. They are pretty good about sharing with each other and playing together.

In the Spring, Don's Mom got sick while she was staying in Charleston with Charlotte and Ron. It was decided that she would be better off staying in Charleston near Charlotte and Ron. She is living in a lovely assisted living home. In April, we drove up to Augusta to help clean out her apartment and move her to Charleston. We got to visit her at her new home there, where she has done pretty well. Barbara's mom joined us on the trip and was a big help. The girls had lots of fun with both grandmothers together.
Last month, Don's Mom was diagnosed with Lung Cancer. She was never a smoker, but she was around several people in her family were. The doctors have decided not to do anything right now. They are just going to monitor it very closely.

One of the greatest thing about having two little girls is dressing them up. Here they are in their Easter dresses having some fun posing for the camera.
| | |
| --- | --- |
| | In April, we had a nice visit from Barbara's long-time friend Leslie. While she was with us, we did something we don't get to do very often - go out! We got someone to babysit for us and we went out for dinner at the largest museum of Packard cars in the world, right here in Fort Lauderdale. While we were there, we sat in this 1925 Model 243, which was owned by president Calvin Coolidge. |
In April, we went up to Charleston to visit Don's family. It was right between Rachel and Sarah's birthdays, so they both got some presents. The big hit was new princess dresses from Grandma Law. Sarah has a Cinderella dress and Rachel has a Snow White dress. They both fit the parts quite well.

Here they are enjoying time with both grandmothers.
In May, we enjoyed the annual home school conference at the Gaylord Palms in Orlando. We went out for dinner at Chef Mickey's in Don's favorite resort, the Contemporary. Sarah and Rachel still aren't too comfortable with the life-size Disney characters.

July brings our nations celebration of Independence, and as you can see, Sarah and Rachel like to celebrate!
| | |
| --- | --- |
| The long daylight of Summer makes it easy for us to walk down to the park and have a little fun. Sarah and Rachel like to feed the ducks and have Daddy push them on the swingset. They love to swing high, which Don says is good training for roller coasters. | |
In August, we joined Don's family in St. Augustine, FL for a week's vacation. We rented a beach house and enjoyed spending time together. We celebrated Don's Mom's 85th birthday along with one of her Great Grandchildren, Luke, who is born on the same day as her. It was Luke's 1st birthday.

The girls loved playing "water chase" where they wade out in the surf and let the waves chase them back in. It was so much fun getting everyone together. We had nine adults and five children.
| | |
| --- | --- |
| In September, Barbara's Mom celebrated her 84th birthday. She is doing quite well. She still comes down to see us about once a week to play with her granddaughters. She is such a help and blessing to Barbara. Steve and Marilou are living around the corner from Mom. They are doing well. Steve still works for Coral Ridge as the printer, so we surprise him every now and then when we are over there for a visit. | |
| | |
| --- | --- |
| | In October, we headed off again for a big road trip from Atlanta to Baltimore. We stopped in Greenville, SC where Don had gone to college. He gave a talk for one of his former professor's class on life after college for computer science majors. Don's sister, brother-in-law and Mother joined us in Greenville. We also spent time exploring a few of the beautiful waterfalls in the area. This picture was taken at Whitewater falls near Toxaway, NC. While we were there, the Pumpkin Festival was held in nearby Pumpkintown, SC. The girls had so much fun seeing fall for the first time. |
| | |
| --- | --- |
| We then drove up to Raleigh, NC to visit two of Don's nephews and their families. Later down the road, we visited the grave of Don's great great grandfather near Fredricksburg, VA, where he was killed in a Civil War battle - The Battle of Fredricksburg. We then drove up to Annapolis, MD to visit Barbara's Aunt and Uncle - Dot and Herm Bading. They took us to the Naval Academy to see the Dress Parade. That was so much fun to see everyone marching in formation. Our girls love to march around the house now. | |
| | |
| --- | --- |
| | We weathered both hurricane Katrina and Wilma without any damage to our house, for which we are very grateful. Wilma tore down our fence and left us without power for a week, and did quite a bit of tree damage. The aftermath took a full week of constant hurricane activity. Don waited six hours in line for gas to pay $20 for 5 gallons for a borrowed generator. |
| | |
| --- | --- |
| Our dear friends David and Mary adopted a precious baby girl, Anna Claire, from China this year and we are enjoying getting to know her. Also, our good friends Allison and Romeo had a baby boy, Anton this year. There are four couples that have been friends for years before any of us had children. With Anna Claire and Anton, that gives each of the four couples two children. Things have really changed! It is a whole different story when we get together to eat now. Here are all eight children together (plus a few extras). | |
| | |
| --- | --- |
| | Sarah and Rachel love to help Barbara with laundry and cleaning, and to help Don with everything from fixing the fridge to working on Grandma's car. We hope we can somehow preserve this desire! Here is Rachel helping her Daddy fix the water valves on the refrigerator. |
| | |
| --- | --- |
| Did I mentioned stuffed animals? | |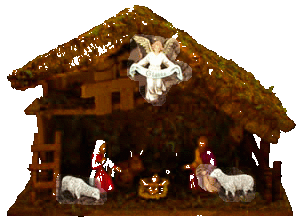 Merry Christmas with love from Don, Barbara, Sarah, and Rachel!
P.S.
Barbara's e-mail address:


Don's e-mail address: