For unto us a child is born, unto us a son is given: and the government shall be upon his shoulder: and his name shall be called Wonderful, Counseller, The mighty God, The everlasting Father, The Prince of Peace. Isaiah 9:6
2004 has been a year of joy for us, without a doubt. We are amazed at how quickly time passes now. Even waiting in line doesn't seem to take as long. Here is a picture of Rachel taken in January. Compared to her Christmas portrait, she has really grown and changed this year. These were her final weeks of being an only child, not having to share, and getting all the attention.

When we wrote our Christmas letter to you last year, we were in the middle of a big project that we were not able to tell anyone about. In October of 2003, we got one of those life-changing phone calls. A couple had selected us to adopt their daughter!
| | |
| --- | --- |
| | We had just completed our adoption of Rachel a few months prior to the call about adopting a second child. We therefore were not listed with agencies or looking to adopt a second child at the time. However, this little girl was special. She was the baby that we were supposed to adopt in 2002. As many of you know, that adoption fell through the day she was born. We see now that the anguish we went through at that time was all part of God's greater plan. She was meant to be with us after all, and she was meant to have Rachel as her little sister. Looking back, we see that we never would have even known about Rachel if we had adopted Sarah at birth like we planned. We now have two beautiful children! |
| | |
| --- | --- |
| | Both girls adjusted very well to our new family of four. We expected to have a difficult adjustment period, but it all went very smoothly. We had great support and prayer from friends and family, for which we are forever grateful. These girls have grown close. They look out for each other and care for each other. They are learning how to share and do pretty well most of the time. They are only 10 months apart, so they are almost like twins. We hope that they will be close their whole lives. |
| | |
| --- | --- |
| | Don's sister and brother-in-law brought Don's mom down for Rachel's first birthday celebration. It was a lot of fun, especially since there was a brand new sister on the scene! Left to right: Charlotte, Rachel, Sarah, Don, Ron, Frances, and Mildred (the grandmothers). |
| | |
| --- | --- |
| | Here are Sarah, Rachel, and their good friend Savannah Cox sitting on a sofa, all enjoying their pacifiers. We continue to enjoy getting together with our dinner group most every month. Just two years ago, we would go an just stay out as late as we wanted. Well, all that has changed now. Our little ones start to get tired early in the evening. All three of these little girls have enjoyed the party, but now they are starting to wind down and are just about ready for bed. |
| | |
| --- | --- |
| | In February, we were delighted to be in the best man and matron of honor for Hugh and Trish Knight. There is a sort of symettry as they were dating at our wedding. Don and the groomsmen pulled some antics in the ceremony, pretending that they had all lost the ring. They did much dramatic searching and scrambling, while Hugh just stood there powerless and about to have a nervous breakdown. Finally, the last groomsman tossed it up to Don, who dropped it and let it go ding-ding-ding across the tile floor. That was, of course, a decoy coin, designed to rattle the groom a little. It worked. |
| | |
| --- | --- |
| | In the preparation for Trish and Hugh's wedding, the women all got together for bridal showers and stuff like that. It was like having a reunion of our Sunday school class from 12 years ago. Here are Donna Weyd, Trish, Barbara, and Kimarie Card. |
| | |
| --- | --- |
| | After completing the long and tumultuous process of Sarah's adoption, we were delighted to have her baptized at our church. Here you can see our little family of 4 (Barbara is holding Rachel) as Dr. Kennedy baptizes Sarah. She was baptized the same night that our good friends Jeff and Diana baptized their new son, Connor. |
In May, we made a trip to Orlando to visit family and to attend a home schooling convention. We had a great time there and saw lots of people we know from church. The girls loved riding around the Gaylord Palms hotel in their little Radio Flyer wagon. (The Radio Flyer of the 21st century has backrests, seat belts, and cup holders.)

We moved over to the Contemporary Resort after the convention was over. Here are the girls, a little on the tired side, down by the beach at the hotel. We put a lot of milage on the wagon that weekend. Don really likes the Contemporary because of its retro-futuristic decor and its close proximity to the Magic Kingdom.
| | |
| --- | --- |
| | Mother's day and Father's day are exciting events for us now. Don's family bought him a new gas grill for Father's day. It even came assembled so he didn't have to put it together. This is the first time Don has had a grill where all you do is turn an knob and it lights. |
| | |
| --- | --- |
| | We made two big trips in 2004. Venturing out with two toddlers is quite different! We went to Augusta to visit Don's mom. She had a great time showing off her two new granddaughters to all her friends. Not many 84 year olds have grandchildren that are babies, and she loves it. We joined with Don's sister and her husband, Charlotte and Ron, and continued up into the beautiful mountains in the Chattanooga area to visit with Don's brother Michael. It is always great when Don's mom can be together with all three of her children. We went on an amphibian tour of the Tennessee River in a "duck" from World War II. It is basically a floating 2.5 ton truck. We took a short trip up to Whitewater Center, where the Olympic whitewater events took place. The scenery was breath taking for us flatlanders! In this picture, left to right, is Barbara, Rachel, Don, Sarah, Don's nephew Travis Law, Don's mom, Don's sister Charlotte, her husband Ron, and Don's brother Michael. |
| | |
| --- | --- |
| | Barbara got to go on a special Mom's trip to St. Augustine with her good friend Colleen Drozdowski from Naples. It was Mom's weekend off. Don took care of the girls and Colleen's husband took care of her two children. Barbara and Colleen got to just relax and be tourists. |
| | |
| --- | --- |
| | Of course, hurricane season brought a lot of storms to Florida this year. We felt very blessed that we were not seriously affected. We had a lot of branches in the yard, and we had a rotten fence blow down, but that was about it. We never lost power in any of the storms, although many of our friends did. Here is a picture of Sarah and Rachel going out to explore between feeder bands of hurricane Frances. You can see that they enjoy the stiff breeze. They did great and slept right through the noisy winds. |
| | |
| --- | --- |
| | We had a nice visit from Law relatives from England. Don's cousin Keith brought his family over for some touring in the US. Fortunately, Miami was one of their stops along the way, which is not far from where we live. We learned some new vocabulary. Did you know they put their rubbish in a skip and a lorry takes it to the tip? From left to right across the top are Jillian, Keith, Pam (Don's cousin from Davie, FL), Don, Sarah, Barbara, and Rachel. Seated on the floor are Keith and Jillian's children, Nicholas and Dominic. |
| | |
| --- | --- |
| | Sarah and Rachel dressed up as Florida oranges for Creation Celebration (an alternative to Halloween) at our church. They entered the costume contest and had lots of fun waving at everyone. Barbara did a great job on their costumes, and they won first place in their category, 4 and under! |
| | |
| --- | --- |
| | It is so nice to have the pitter-patter of little feet in the house. But sometimes we hear the pitter-patter of little feet on the house. This means we have some unwelcome guest trying to nest in our home. Don called a few local animal control organizations, but they weren't much help. The best advice they had was to put cans of ammonia in the yard. Don didn't consider that an option and built his own trap instead. We caught this possum the first night and relocated him far away from Plantation. |
| | |
| --- | --- |
| | It is very interesting to watch the personalities of our children emerge. They are certainly different from each other. This picture is typical Rachel. She is a people person and goes at anything full blast. She loves to have an audience and to make people laugh. She also has a worrysome (for us) mischivous streak developing. From the time we started the adoption for Rachel until the time we had her was two days. For Sarah, it was two and a half years. We had to go to court seven times to complete Sarah's adoption. We are thankful to so many of you who prayed us through the whole process! |
| | |
| --- | --- |
| | Sarah, unlike Rachel, is the studious type. She loves to read and kick her feet up like a teenager. She is a natural organizer and enjoys making sure everything is in its rightful place. She is calm and content, and likes to watch out for Rachel. Sarah has a great imagination, and enjoys cooking imaginary food and feeding it to her dolls and/or Rachel. |
| | |
| --- | --- |
| | Sarah and Rachel have a great time playing together. Often, they are complete copycats. If one of them comes up with something to do, then the other one immediately insists on doing the same thing. We got these crowns for a birthday party. We went with the princess theme for Sarah's 2 year birthday party since her name means Princess. |
| | |
| --- | --- |
| | Here they are on laundry day, excited that there is a new toy in the playroom, a laundry basket. It is so much fun to watch a little child discover the world. Everything is facinating to them, especially if they've never seen it before. We have fun with wads of paper, empty bottles, a piece of tape, you name it. |
| | |
| --- | --- |
| | We continue to participate in the Little Friends/Big Friends ministry at our church. We can't all go to all of the events, but we like to go when we can. We took the girls to the trip to the science museum this year, and they loved exploring the hands-on exhibits together. |
We live an abundant life! It is so much fun with two little girls for which everything is new. We enjoy gardening, playing games with friends, our monthly dinner group, decorating for Christmas, and just living life.

We express our appreciation to the US armed forces who defend our wonderful country, and our thoughts and prayers are with them during Christmas and always.

We hope you all have a blessed and joyous celebration of the birth of Jesus!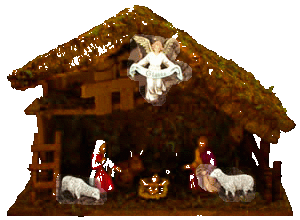 Merry Christmas with love from Don, Barbara, Sarah, and Rachel!
P.S.
Barbara's e-mail address:


Don's e-mail address: macadamia@bigfoot.com (If you write to this address, be sure to put my name, Don, in the first line of the email.)