Merry Christmas!
Welcome to our online Christmas letter! Sometimes there is just too much to fit on a single page of paper.
This has been a fantastic year for us. We are grateful that we can look back and see great blessings over the year.
In January, we were honored to be the godparents for Savannah Leigh Cox, the baby daughter of good friends of ours. She is a precious little girl and we have a lot of fun with her and her parents.
In February, we got a call about a two day old baby girl that needed a home. She was in foster care and had just come there from the hospital. We took her home and took care of this precious newborn. It didn't take very long for us to get attached to her - like about 10 minutes. We enjoyed her first few days of life, even though there wasn't a lot of sleep for us. In the back of our minds we wondered if she would become adoptable, however, her grandmother came forth a few weeks later to say that she would raise her. It was a sad time for us to let her go, but little did we know she was preparing us for things to come.
The next month, March, we were getting frustrated with trying to do an adoption and decided to apply to adopt from Russia. We mailed our non-refundable payment to an international agency and our non-refundable immigration fee to the INS.
Two days later, we got an urgent call from our local adoption agency. A baby girl had just been born in Lake City and was adoptable! The plan had been for her to be adopted by a family in Maine, but strangely (and miraculously for us) her planned adoption fell apart an hour after she was born. The next day we went to the agency and signed papers, and the following morning we were on the Turnpike to go get her! Boom in 48 hours we went from zero to parents.
| | |
| --- | --- |
| | Here we are in the hospital where Rachel was born. That piece of paper officially states that we are to adopt her! Horray! |
| | The first time we got to feed Rachel was at an Arby's in Ocala. Here is Don holding her and helping her to burp. She sure looks tiny next to big daddy. |
After we suddenly and unexpectedly got this child, our international adoption agency agreed to refund our non-refundable fee. We were grateful for that, but assumed that the money paid to the government was lost. However, they returned our check to us with a note that they don't accept personal checks! Wow! Thank God for His provision down to the last detail!
It was so exiting to bring our new baby home from the hosptial, even though it was a 350 mile trip. We were on "Cloud Nine" having her. Like no baby we have had before, she came with a piece of paper stating that we were adopting her! When we first saw that piece of paper, it brought tears to our eyes.
Our friends in Plantation and from church have been very gracious to us with the new child. They provided many meals for us to eat while we were making the adjustment (again) of having a newborn in the house. Fortunately, we were already equipped and broken in thanks to the foster baby that we had in February, so preparing in 48 hours wasn't a problem.
Don's sister and brother-in-law, Charlotte and Ron, brought Don's mom down to see her new granddaughter in April.
| | |
| --- | --- |
| | Don's mom finally gets to meet Rachel. They both fell in love with the other. She and everyone else in our families are very excited and proud of this new baby! |
We had a special Wal-Mart experience in May. We had our new daughter's portrait done at Wal-Mart.
| | |
| --- | --- |
| | It is amazing how much those $3.88 specials can cost when you are proud new parents! :-) This was a special moment for us because it really drove home the fact that this child was ours to keep. We had never taken any of the other children we had for Wal-Mart portraits. |
We're glad that Don's employer, CyberGuard, is doing well so we can pay for all the Wal-Mart pictures. The company had an annual growth rate of 40%, which is pretty good in a tough economy. Don enjoys creating the high-availabilty portion of the firewall on a Linux platform. CyberGuard got relisted on NASDAQ this year as CGFW and is up about 400% since Don joined the company.
In June, the three of us made a trip to Charleston, SC to visit Don's family.
| | |
| --- | --- |
| | Don's mother came down from Augusta and his two nephews in Raleigh brought their families down as well. We had a great time playing games and playing with our new daughter. |
We took the whole family to the beach at Isle of Palms, SC. Our great-niece and great-nephew (they are great in a number of ways) had fun playing in the tidal pools and the ocean. Charlotte and Ron went to a lot of trouble to setup a tent on the beach to protect Rachel from the sun. She is so fair-skinned that she still got a litte pink from the reflection. But she is so mellow it didn't bother her at all.
| | |
| --- | --- |
| | We also had Rachel baptized in June. This was another special experience in several ways. This was different - we hadn't had any other children baptized. Here she is dressed up in her baptism dress. |
Don loves to go down to the races at Hialeah Speedway. In June, they hosted a "Wild and Crazy Bus Night" with all kinds of fun races. They had a backwards race, a blindfold race, a demolition derby, and school bus races. Don has to let the redneck out every now and then!
| | |
| --- | --- |
| | Our goddaughter Savannah now has a playmate! Here they are dressed up in matching outfits having a little conversation. The outfits say "Girl Friends" on the front. |
In July, we went to court and our adoption was finalized. It was a quick and easy procedure that day, but it was deeply meaningful to us since we had been waiting for years for that moment. Our little girl was now legally Rachel Julia Law.
| | |
| --- | --- |
| | Here is Rachel enjoying her new birth certificate. After the adoption was finalized, she was issued a certificate with us as her mom and dad. |
Barbara has done a great job of developing the church bookstore. Many people comment on how much it has improved. Each year, Barbara goes to the annual Christian Booksellers convention. This year, it was in Orlando. Don and Rachel had a special treat as they joined her for part of the conference. While Barbara was busy on the exhibition floor, Don and Rachel went around to meet many interesting artists and authors, such as Emily Barnes, Carmen, Zoe Girl, Margarent Becker, Joni Ericson Tada, Os Guiness, Florence Littour, Frank Peretti, Gloria Gaither, Jars of Clay, and many others.
| | |
| --- | --- |
| | At the CBA conference, we got to meet our favorite cartoon characters from Veggie Tales, Bob the tomato and Larry the cucumber. |
In September, we made a road trip to Augusta to see Don's mom again. She is a little jealous of Barbara's mom, who gets to see Rachel at least once a week and often takes care of her while Barbara works at the church bookstore.
In October, Barbara's Aunt Vivian and Uncle Bill moved from Long Island to South Florida to be closer to their daughter. Aunt Vivian suffered from several serious health problems and passed away a few weeks later. We were grateful that she had some time with her family before passing away.
Our church holds an annual Creation Celebration festival as an alternative to Halloween trick-or-treat. The kids dress up as Bible characters.
| | |
| --- | --- |
| | We got an Eeyore costume for Rachel, and she went as Baalam's donkey (Numbers 22). She was amazingly cute (that is not just proud parents talking), and she won first runner-up in the costume contest! Wow I didn't know we could feel so proud! |
In November, we celebrated Thanksgiving with Steve (Barbara's brother) and Marilou in their new home. We certainly have a lot to be thankful for!! They've done a lot of work on it and you can tell they watch the HGTV channel. :-) We had a great time and gave Rachel her first taste of table food. She was not impressed. It looks like it will be a slow transition from Similac.
In December, we took Rachel on her first trip to Disney! Barbara's mom came with us. She and Don have never seen Disney decorated for Christmas. We had a good time and even took Rachel on a few rides, including Aladin's magic carpet. This was a little scary for her, but she was laughing again when we got off the ride.
While in Orlando, we visited Don's Aunt Doris and her family as she celebrated her 94th birthday.
This year, Don, Barbara, and Rachel are acting as Joseph, Mary, and Jesus in the Christmas concert at church. I'm not sure how we will pass Rachel off as a newborn Jewish boy, but we will do what we can.
Throughout the year we continue to be involved in Little Friends/Big Friends, a ministry for the children of single parents.
| | |
| --- | --- |
| | We also enjoy our monthly dinner group based here in Plantation. This is a special group of people that get together over a meal each month. We have really bonded with that group and look forward to each event. |
Don continues to play bass in the contemporary worship band at church. We are working on our next CD, although it looks like it will be a long project.
Barbara has coordinated a group of willing cooks to prepare meals for the foster child assessment center. Every weekend this year, any children who had just been removed from their home got a home-cooked meal from one of these gracious people. We thank you all for your love!
It's a wonderful life could be our theme for this year. We have more blessings that we can count. Rachel is a wonderful little girl almost always happy and content. She is a precious gift from God and most certainly a bundle of joy for us.
We hope that your Christmas is full of joy and that you will take time to reflect on the child that was given as a gift to us all two thousand years ago.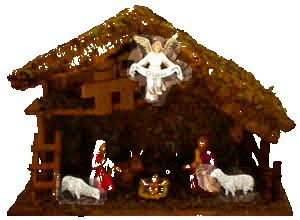 Merry Christmas with love from Don, Barbara, and Rachel!
P.S.
Barbara's new e-mail address:


Don's old e-mail address: macadamia@bigfoot.com (If you write to this address, be sure to put my name, Don, in the first line of the email.)